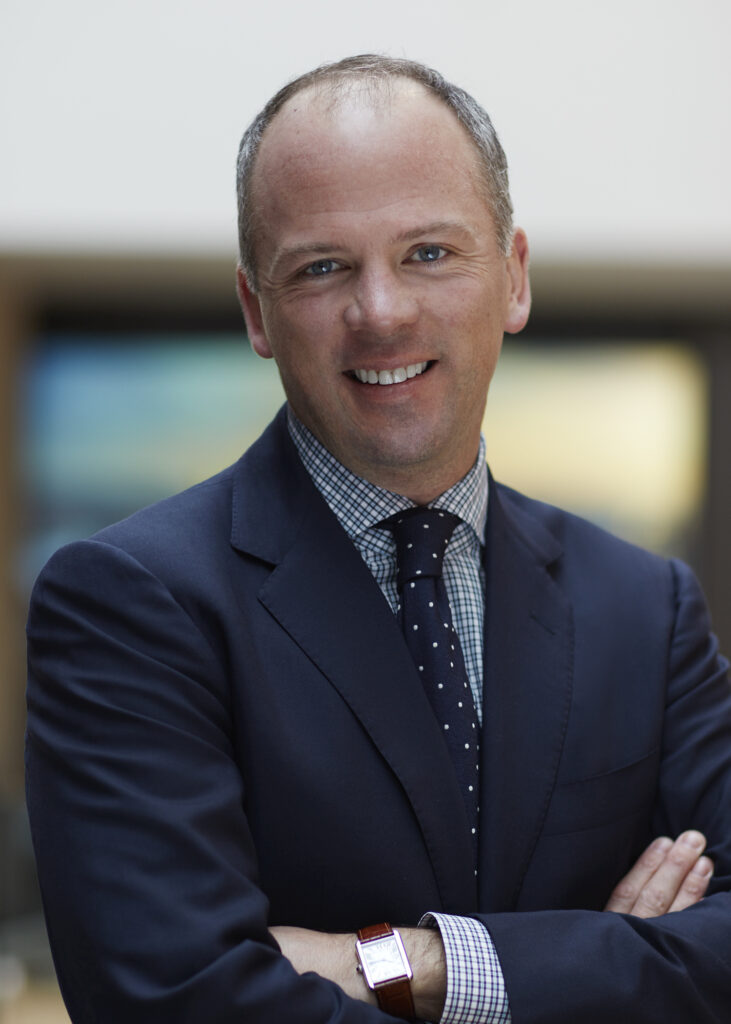 Jim Hilt - Chief Executive Officer
Jim Hilt has more than 25 years of consumer-focused business experience, leading some of the world's top companies and brands. He has shaped and directed innovative, high-performance teams across product, technology, marketing, analytics and business development. He has built a reputation for fostering an intrapreneurial and entrepreneurial culture that enhances the customer experience, streamlines employee operations and brings products to life. Prior to joining AMS, Jim unified a family of photography and customized product brands as President of Shutterfly, Inc. While there, he oversaw business strategy and created meaningful customer connections through deeper brand experiences and strategic acquisitions and partnerships. Jim also held leadership roles at Express, Barnes & Noble, Sears, SAP and IBM, where he managed product launches, delivered industry-first technological approaches, spearheaded international brand expansions and identified and initiated significant growth opportunities. Jim currently sits on the Board of Directors for major athletic apparel retailer Hibbett Sporting Goods and is a 2018 Henry Crown Fellow from the Aspen Institute. Having grown up in Minnesota and North Dakota, he received his Bachelor of Arts in Political Science from the University of Minnesota. Jim enjoys helping his son build his growing coin collection, spending time with this family and supporting his community through several causes. He has a passion for making art and creativity more accessible for children of all backgrounds, teaching the next generation of innovators and entrepreneurs and removing systemic disparities that hinder equitable access to healthcare.
Natalie Mehrhoff - Chief Financial Officer
Natalie has held the position of Chief Financial Officer (CFO) of AMS since 2018 after serving as the corporate controller for three years. Natalie has over 20 years of Finance experience and as CFO, Natalie is a key member of the senior leadership team. She drives strategic financial decision making and is responsible for the Accounting and Procurement departments at AMS which include critical business functions such as general accounting, banking and lending relationships, financial systems, corporate finance, financial reporting, budgeting and financial planning, cash management, and procurement. Prior to joining AMS, Natalie held various positions in corporate finance at Alliant Techsystems (ATK), which was an aerospace and defense contractor in the Twin Cities. She gained valuable experience during her seven years at ATK through her roles as senior manager of financial reporting, director of corporate financial planning and analysis, and director of planning and reporting. She spent the first six years of her career in public accounting at Deloitte. Natalie holds a CPA license (inactive) and received a bachelor's degree in Accounting from the College of St. Benedict in St. Joseph, MN. Outside of work, Natalie enjoys reading, traveling, cake decorating, and spending time with her husband and three children who keep life very busy!
Ted Smetana – Chief Commercial Officer
Ted is an accomplished senior executive and seasoned leader with over 25 years of retail and consumer industry experience. As an expert in merchandising and business operations, he brings deep experience in consistently delivering strong financial performance and always puts the customer at the center of every decision. As Chief Commercial Officer (CCO) for Asset Marketing Services, Ted is oversees the areas of Brand and Creative, Product Development and Merchandising and Marketing. Ted's primary focus is driving customer engagement and sales by developing and bringing to market a robust product pipeline in partnership with global mints. With storytelling at the root of all numismatic products, the power of bringing together these functions enables and fortifies a consistent voice and customer experience across all sales channels and consumer touchpoints. Prior to joining the AMS leadership team, Ted was Chief Merchandising Officer at Lovepop – a digitally native, late-stage startup disrupting the greeting cards space; and, prior to that, was a Vice President at Target where he built a reputation as a transformational leader, harnessing the power of teams, data and technology. Before Target, Ted was a Principal at Kearney, a leading global management consultancy. Ted is known for bringing a strategic mindset and a bias for action. He leads with curiosity, and builds high performing, engaged teams. Ted also serves on the non-profit Board of MITY (Minnesota Institute for Talented Youth). He received his BA from Carleton College and an MBA from the University of Chicago. When not working, Ted cherishes time with his family and friends, plays tennis, enjoys to cook, and embraces the outdoors.
Jason Kubacki - Chief Information Officer
Jason comes to us from Cargill where he led efforts to use technology to transform long standing agricultural processes and modernize the global technology footprint across Cargill's agriculture supply chain and protein business. In addition, he led meaningful efforts to better connect technology teams and benefits to the overall business and its people. Prior to that, he held technology roles at Target, Deloitte, and Mortenson, where he both organized and implemented critical technology initiatives – significantly impacting processes, technology operations, security, and overall business results. Jason received his Bachelor of Science degree from the University of Minnesota in Database Administration and Advertising. He is married and the father of three girls who keep him very busy with activities and coaching competitive soccer. He is also a passionate outdoorsman and car collector.
Brian Larson – Chief Revenue Officer
With over two and a half decades of dedicated leadership experience, Brian Larson brings a relentless passion for personal and team growth, fostering a culture of continuous improvement in every organization he leads. As a seasoned expert in directing Direct to Consumer sales organizations, Brian has made an indelible mark on AMS since joining in 2008. His expertise has been instrumental in driving performance excellence across the organization. Prior to his tenure at AMS, Brian served in progressively advancing roles within the financial services industry. Notably, he spearheaded culture change initiatives and successfully expanded branch sales footprints at Ameriquest, New Century Financial, and United Securities. Throughout his career, Brian has been recognized for infusing energy and urgency into every endeavor, all while wearing his signature smile.Brian holds a Bachelor of Science degree from the University of Wisconsin-Oshkosh and earned an MBA from Hamline University. Beyond the boardroom and sales floors, Brian's heart lies in nature's embrace. He cherishes escapes to the cabin, where he immerses himself in the great outdoors, surrounded by family and friends.
Dena Rieken – Chief Human Resources Officer
Dena is an accomplished and strategic Chief Human Resources Officer with over 25 years of responsible and progressive experience developing best practices for companies. She has collectively spent 13 years of her HR career with AMS. As the CHRO at AMS, Dena plays a pivotal role in shaping the company's people strategy, aligning it with the overall business objectives and ensuring that talent remains at the heart of the company's organizational success. She strives to recruit the best and brightest talent that fosters a strong company culture. She brings a wealth of experience in managing HR functions, driving workforce planning, and implementing innovative HR programs that enhance employee engagement, development, and retention. She is the most fulfilled championing employees to grow professionally and dedicated to creating an inclusive workplace that leads to a great employee experience. Prior to AMS, she held HR leadership roles at Advantage Management Company (Dart Network) and ConvergeOne, formally NACR. She holds a BA in Business from Winona State University. Out of the office, she is spending time with her family and friends, traveling & enjoying life. You can find her volunteering her time at a local boutique.
Katie Wilhoit - General Counsel
Katie has advised AMS on legal, regulatory and compliance matters since April 2012. Prior to joining AMS, Katie was a partner at Oppenheimer Wolff & Donnelly, where she practiced law for 11 years in the firm's commercial litigation practice group. Katie graduated cum laude with degrees in History and French from DePauw University, and graduated magna cum laude from William Mitchell College of Law. Katie maintains a strong spirit of volunteerism and community service; and lived in both Haiti and Guatemala as a service volunteer prior to attending law school. These days, when she is not in the office, you might find Katie traveling to listen to live music, reading a book on a lake in Wisconsin, or spending time with family and friends.
Terry Smith - VP of Operations
Terry has been an integral part of AMS since 2006, initially overseeing fulfillment operations for all AMS brands. Within two years, he earned a promotion to VP of Operations, with expanded responsibilities that included managing a sales and service call center, overseeing facility operations across all sites, and developing the sales compliance program. Currently, Terry's primary focus at AMS encompasses Logistics and Facility operations, Before joining AMS, Terry spent a decade with Fidelity Investments, where he led a 7x24 Mass Mail operation with 180 employees in Covington, KY. His proficiency in operations and management roles is further evident from his previous positions at Gap, Inc., Mari- Mi, Inc., and his seven-year tenure at Conagra Foods/ACTII in Edina, MN. Terry's career is marked by a consistent commitment to excellence, operational efficiency, and successful team leadership.